Choosing a Template
---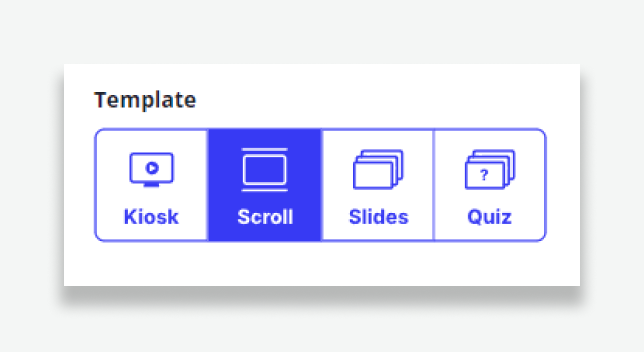 Choose from one of the four templates (kiosk, scroll, slides, quiz).
You can change your template later via the editor.
Below is a brief description of each template:
| | |
| --- | --- |
| Kiosk | Uses the slides presentation mode. The kiosk template enables you to set the duration of each slide within autoplay mode. |
| Scroll | A single scrolling website which moves seamlessly between items in your exhibit. |
| Slides | A presentation-style layout where the user can click forward and backward between individual slides. |
| Quiz | Uses the slides presentation mode. Create your own interactive quizzes using multiple choice and pinpoints. |
All templates follow the same process for editing settings, importing items, adding item descriptions, saving, sharing, and embedding. These are described in more detail in this section of the documentation.
Information specific to individual templates can be found under the templates section of the documentation.